CelebrityCinema
Will Smith: torta di compleanno a sorpresa sul red carpet di Gemini Man
di Giulia Greco - | aggiornato
Will Smith ha ricevuto una torta di compleanno sul red carpet di Gemini Man e ne è stato felicissimo.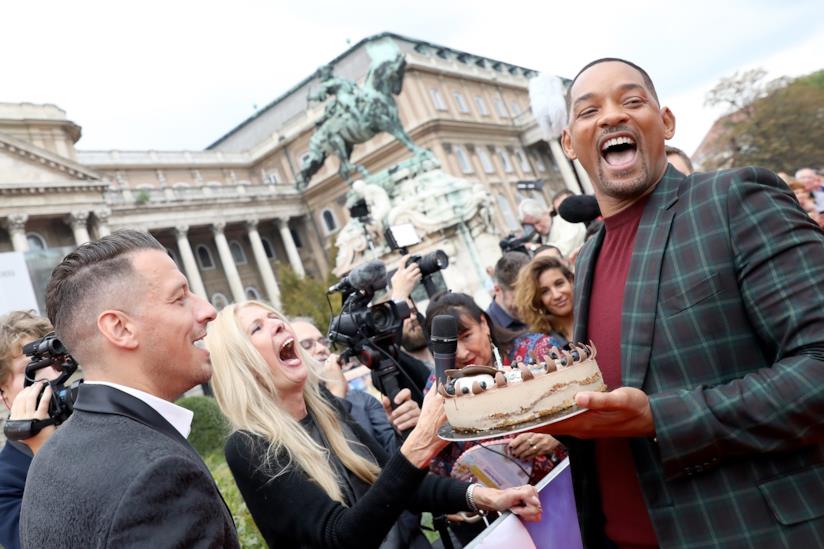 Getty Images
0 condivisioni 0 commenti
Will Smith ha festeggiato i suoi 51 anni a Budapest, durante la premiere del film Gemini Man.
L'attore ha ricevuto una torta a sorpresa sul red carpet per la presentazione della pellicola di Ang Lee e dire che ne è stato felice è un eufemismo!
L'attore sfilava sul red carpet, salutava i fan e posava per le foto quando gli è stato fatto dono di una torta di compleanno, con tanto di candelina da spegnere.
Happy birthday #WillSmith! The actor turns 51 today and received a cake at the premiere of @GeminiManMovie in Budapest 🎂🥳

⭐ Get more star sightings at https://t.co/iMBgOU8Z0y
(📷: Getty Images) pic.twitter.com/9gf3PRcfz5

— etalk (@etalkCTV) September 25, 2019
Avete mai visto qualcuno più felice con un dolce tra le mani? Con quel sorriso stampato in volto, Will Smith sembra tornato bambino alla vista dell'inaspettato regalo.
Will Smith is all of us after being a birthday cake at #GeminiMan premiere https://t.co/AVK30KqxSQ

— Metro Entertainment (@Metro_Ents) September 25, 2019
Anche la moglie Jada Pinkett Smith ha festeggiato il marito, e l'ha fatto con un dolce e divertente video messaggio pubblicato su Instagram.
Buon compleanno, Willard! Non ti ho mai considerato un tipo divertente. Ma dopo tanti anni, finalmente ho capito il tuo senso dell'umorismo. Il mio più grande augurio per il tuo compleanno è... più cacca e meno gas (se non avete visto l'ultimo episodio di Red Table Talk... non potete capirla!)
Il riferimento è a una battuta di Will Smith che, ospite del talk show televisivo Red Table Talk (presentato da Jada Pinkett Smith, Willow Smith e Adrienne Banfield-Norris), ha ammesso, senza pudore, che ama scorreggiare!
Tra premiere, nuovi progetti e ospitate in TV, Will Smith è sulla cresta dell'onda.
La sua carriera è sempre in ascesa: nel futuro dell'attore c'è già il quarto capitolo di Bad Boys, mentre la recente apparizione in Aladdin, nei panni del Genio della lampada, ha segnato il maggior successo di Smith in termini monetari. Il live-action Disney diretto da Guy Ritchie, con Mena Massoud e Naomi Scott nei panni di Aladdin e Jasmine, ha incassato infatti più di un miliardo al botteghino.
Smith, sorpreso e felice del risultato ottenuto, ha ringraziato tutti gli spettatori che sono accorsi nelle sale a vedere il film.
Smith ha detto di essere onorato di essere riuscito a raggiungere un tale risultato a questo punto della sua carriera, dopo aver fatto parte dell'industria del cinema e della TV per tanti anni. Così ha detto grazie ai suoi fan in tutte le lingue del mondo!