The Walking Dead American Horror Story Outlander Timeless Teen Wolf
Saturn Awards 2017: le nomination sono guidate da TWD e Rogue One
| aggiornato
The Walking Dead e Rogue One guidano la lista dei candidati alle migliori produzioni di genere horror, fantasy e sci-fi dell'anno.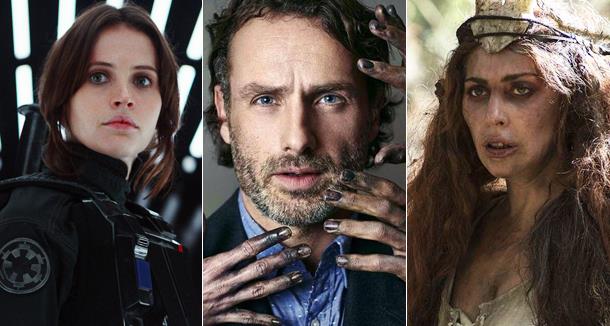 407 condivisioni 0 commenti
Siete pronti a scoprire le migliori opere di fantascienza, fantasy e horror degli ultimi tempi? Il 2 marzo è stata divulgata la lista completa delle nomination ai Saturn Awards 2017.
In questa 43esima edizione è The Walking Dead a guidare le candidature nelle categorie televisive, con ben 6 menzioni, tra cui quella di miglior serie horror e diverse in campo attoriale per i suoi protagonisti. In seconda posizione c'è Westworld, la serie fantascientifica di HBO, in corsa per cinque premi.
I nostri complimenti vanno anche ad American Horror Story: Roanoke, nominato in cinque categorie, e al fantasy-drama Outlander, che si è distinto con quattro nomination (a parimerito con Fear The Walking Dead) e ha ricevuto apprezzamenti per le interpretazioni dei suoi protagonisti, Sam Heughan e Caitriona Balfe.
In campo cinematografico è Star Wars a farla da padrone. Rogue One: A Star Wars Story domina con 11 nomination. Lo spin-off dedicato ai Ribelli è seguito dal Grande Gigante Gentile di Steven Spielberg e dal Doctor Strange degli Studi Marvel, che hanno ottenuto 10 nomination a testa. La classifica non è vuota di cinecomic e adattamenti tratti dai fumetti; qui, è Capitan America: Civil War a guidare con 8 nomination.
Ma chi si assicurerà la vittoria alla 43esima edizione dei Saturn Awards? I vincitori verranno annunciati il 28 giugno 2017.
Nel mentre, ecco la lista completa dei candidati nelle categorie televisive e in quelle cinematografiche.
Categorie Televisive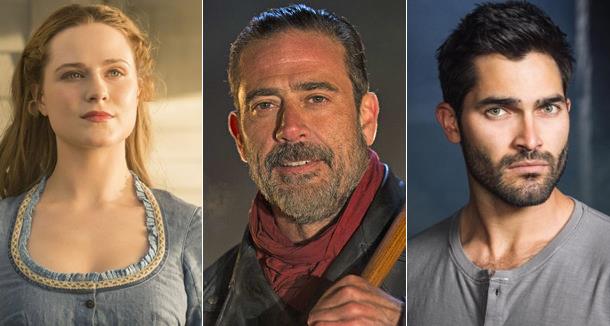 Miglior serie TV di fantascienza
The 100 (The CW)
Colony (USA)
The Expanse (SyFy)
Falling Water (USA)
Incorporated (SyFy)
Timeless (NBC)
Westworld (HBO)
Miglior serie TV fantasy
Beyond (Freeform)
Game of Thrones (HBO)
The Good Place (NBC)
Lucifer (Fox)
The Magicians (SyFy)
Outlander (Starz)
Preacher (AMC)
Miglior serie TV horror
Miglior serie TV d'azione o thriller
Animal Kingdom (TNT)
Bates Motel (A&E)
Designated Survivor (ABC)
The Librarians (TNT)
Mr. Robot (USA)
Riverdale (The CW)
Underground (WGN America)
Miglior serie TV con supereroi
Miglior presentazione televisiva
22.11.63 (Hulu)
Channel Zero (SyFy)
Doctor Who: The Return of Dr. Mysterio (BBC America)
Marte (National Geographic)
The Night Manager (AMC)
Rats (Discovery Channel)
Miglior serie televisiva sui nuovi media
Bosch (Amazon)
Marvel's Daredevil (Netflix)
Marvel's Luke Cage (Netflix)
The Man in the High Castle (Amazon)
A Series of Unfortunate Events (Netflix)
Stranger Things (Netflix)
Miglior attore in una serie TV
Miglior attrice in una serie TV
Melissa Benoist, Supergirl (The CW)
Caitriona Balfe, Outlander (Starz)
Kim Dickens, Fear the Walking Dead (AMC)
Vera Farmiga, Bates Motel (A&E)
Lena Headey, Game of Thrones (HBO)
Winona Ryder, Stranger Things (Netflix)
Miglior attore non protagonista in una serie TV
Linden Ashby, Teen Wolf (MTV)
Mehcad Brooks, Supergirl (The CW)
Kit Harrington, Game of Thrones (HBO)
Ed Harris, Westworld (HBO)
Lee Majors, Ash vs. Evil Dead (Starz)
Norman Reedus, The Walking Dead (AMC)
Jeffrey Wright, Westworld (HBO)
Miglior attrice non protagonista in una serie TV
Miglior giovane attore in una serie TV
K.J. Apa, Riverdale (The CW)
Millie Bobby Brown, Stranger Things (Netflix)
Max Charles, The Strain (FX)
Alicia Debnam-Carey, Fear the Walking Dead (AMC)
Lorenzo James Henrie, Fear the Walking Dead (AMC)
Chandler Riggs, The Walking Dead (AMC)
Migliore guest-star in una serie TV
Miglior serie o film d'animazione
Bojack Horseman (Netflix)
I Griffin (Fox)
The Little Prince (Netflix)
I Simpson (Fox)
Star Wars: Rebels (Disney XD)
Trollhunters
Categorie cinematografiche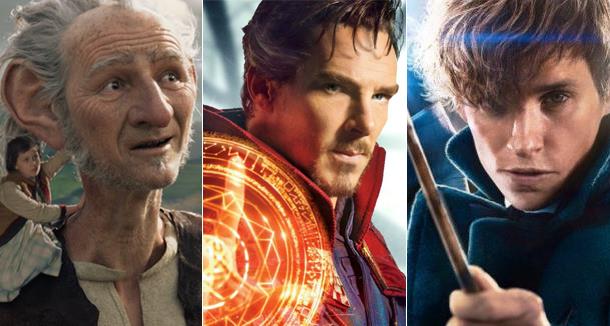 Miglior trasposizione da fumetto a film
Miglior film di fantascienza
Miglior film fantasy
Miglior film horror
Miglior film d'azione o avventura
Miglior film thriller
Miglior attore in un film
Chris Evans, Captain America: Civil War (Marvel / Walt Disney Studios)
Benedict Cumberbatch, Doctor Strange (Marvel / Walt Disney Studios)
Chris Pratt, Passengers (Sony)
Ryan Reynolds, Deadpool (20th Century Fox)
Mark Rylance, Il GGG - Il Grande Gigante Gentile (Walt Disney Studios)
Chris Pine, Star Trek Beyond (Paramount)
Matthew McConaughey, Gold (The Weinstein Company)
Miglior attrice in un film
Amy Adams, Arrival (Paramount)
Emily Blunt, La Ragazza del Treno (Universal)
Taraji P. Henson, Il diritto di contare (20th Century Fox)
Jennifer Lawrence, Passengers (Sony)
Felicity Jones, Rogue One: A Star Wars Story (Lucasfilm / Walt Disney Studios)
Narges Rashidi, L'ombra della paura (Vertical Entertainment)
Mary Elizabeth Winstead, 10 Cloverfield Lane (Paramount)
Miglior attore non protagonista in un film
Chadwick Boseman, Captain America: Civil War (Marvel / Walt Disney Studios)
Dan Fogler, Animali Fantastici e Dove Trovarli (Warner Bros.)
John Goodman, 10 Cloverfield Lane (Paramount)
Diego Luna, Rogue One: A Star Wars Story (Lucasfilm / Walt Disney Studios)
Zachary Quinto, Star Trek Beyond (Paramount)
Christopher Walken, Il Libro della Giungla (Walt Disney Studios)
Miglior attrice non protagonista in un film
Scarlett Johansson, Captain America: Civil War (Marvel / Walt Disney Studios)
Tilda Swinton, Doctor Strange (Marvel / Walt Disney Studios)
Margot Robbie, Suicide Squad (Warner Bros.)
Kate McKinnon, Ghostbusters (Sony)
Betty Buckley, Split (Universal)
Bryce Dallas Howard, Gold (The Weinstein Company)
Miglior giovane attore in un film
Ruby Barnhill, Il GGG - Il Grande Gigante Gentile (Walt Disney Studios)
Julian Dennison, Hunt for the Wilderpeople (The Orchard)
Tom Holland, Captain America: Civil War (Marvel / Walt Disney Studios)
Lewis MacDougall, A Monster Calls (Focus Features)
Neel Sethi, Il Libro della Giungla( Walt Disney Studios)
Anya Taylor-Joy, The Witch (A24)
Miglior regia
Scott Derrickson, Doctor Strange (Marvel / Walt Disney Studios)
Gareth Edwards, Rogue One: A Star Wars Story (Lucasfilm / Walt Disney Studios)
Jon Favreau, Il Libro della Giungla (Walt Disney Studios)
Anthony Russo, Joe Russo, Captain America: Civil War (Marvel / Walt Disney Studios)
Bryan Singer, X-Men: Apocalisse (20th Century Fox)
Steven Spielberg, Il GGG - Il Grande Gigante Gentile (Walt Disney Studios)
Denis Villeneuve, Arrival (Paramount)
Miglior copione
Melissa Mathison, Il GGG - Il Grande Gigante Gentile (Walt Disney Studios)
Eric Heisserer, Arrival (Paramount)
Rhett Reese, Paul Wernick, Deadpool (20th Century Fox)
Jon Spaihts, Scott Derrickson, C. Robert Cargill, Doctor Strange (Marvel / Walt Disney Studios)
Taylor Sheridan, Hell or High Water (Lionsgate / CBS Films)
Chris Weitz, Tony Gilroy, Rogue One: A Star Wars Story (Lucasfilm / Walt Disney Studios)
Miglior montaggio
Jeffrey Ford, Matthew Schmidt, Captain America: Civil War (Marvel / Walt Disney Studios)
John Gilroy, Colin Goudie, Jabez Olssen, Rogue One: A Star Wars Story (Lucasfilm / Walt Disney Studios)
Stefan Grube, 10 Cloverfield Lane (Paramount)
Michael Kahn, Il GGG - Il Grande Gigante Gentile (Walt Disney Studios)
Mark Livolsi, Il Libro della Giungla (Walt Disney Studios)
Joe Walker, Arrival (Paramount)
Miglior scenografia
Rick Carter, Robert Stromberg, Il GGG - Il Grande Gigante Gentile (Walt Disney Studios)
Doug Chiang, Neil Lamont, Rogue One: A Star Wars Story (Lucasfilm / Walt Disney Studios)
Stuart Craig, Animali Fantastici e Dove Trovarli (Warner Bros.)
Guy Hendrix Dyas, Passengers (Sony)
Owen Paterson, Captain America: Civil War (Marvel / Walt Disney Studios)
Charles Wood, Doctor Strange (Marvel / Walt Disney Studios)
Miglior colonna sonora
Michael Giacchino, Doctor Strange (Marvel / Walt Disney Studios)
Michael Giacchino, Rogue One: A Star Wars Story (Lucasfilm / Walt Disney Studios)
James Newton Howard, Animali Fantastici e Dove Trovarli (Warner Bros.)
Justin Hurwitz, La La Land (Lionsgate)
Thomas Newman, Passengers (Sony)
John Williams, Il GGG - Il Grande Gigante Gentile (Walt Disney Studios)
Migliori costumi
Colleen Atwood, Alice Attraverso lo Specchio (Walt Disney Studios)
Colleen Atwood, Animali Fantastici e Dove Trovarli (Warner Bros.)
Alexandra Byrne, Doctor Strange (Marvel / Walt Disney Studios)
David Crossman, Glyn Dillon, Rogue One: A Star Wars Story (Lucasfilm / Walt Disney Studios)
Sang-gyeong Jo, The Handmaiden (Amazon Studios / Magnolia)
Joanna Johnston, Il GGG - Il Grande Gigante Gentile (Walt Disney Studios)
Miglior trucco
Jeremy Whitewood, Doctor Strange (Marvel / Walt Disney Studios)
Nicky Knowles, Animali Fantastici e Dove Trovarli (Warner Bros.)
Amy Byrne, Rogue One: A Star Wars Story (Lucasfilm / Walt Disney Studios)
Monica Huppert, Joel Harlow, Star Trek Beyond (Paramount)
Allan Apone, Jo-Ann MacNeil, Marta Roggero, Suicide Squad (Warner Bros.)
Charles Carter, Rita Ciccozzi, Rosalina Da Silva, X-Men: Apocalisse (20th Century Fox)
Migliori effetti speciali
Louis Morin, Ryal Cosgrove, Arrival (Paramount)
Joe Letteri, Joel Whist, Il GGG - Il Grande Gigante Gentile Stephane Ceretti, Richard Bluff, Vincent Cirelli, Paul Corbould, Doctor Strange (Marvel / Walt Disney Studios)
Tim Burke, Christian Manz, David Watkins, Animali Fantastici e Dove Trovarli (Warner Bros.)
Rober Legato, Adam Valdez, Andrew R. Jones, Dan Lemmon, Il Libro della Giungla(Walt Disney Studios)
John Knoll, Mohen Leo, Hal Hickel, Neil Corbould, Rogue One: A Star Wars Story (Lucasfilm / Walt Disney Studios)
Miglior film indipendente
Eye in the Sky (Entertainment One)
Hunt for the Wilderpeople (The Orchard)
La La Land (Lionsgate)
Lion (The Weinstein Company)
The Ones Below (Magnolia)
Remember (A24)
Miglior film internazionale
Elle (Sony Pictures Classics)
The Handmaiden (Amazon / Magnolia)
In Order of Disappearance (Magnolia)
The Mermaid (Sony)
Shin Godzilla (Funimation)
L'ombra della paura (Vertical Entertainment)
Miglior film d'animazione